Product Search
Product
Any Product
Any Product
Gift Certificates
Stainless Steel Pickup Mud Flaps
Stainless Steel Bumper Guides
Bumper Guide Parts & Accessories
Stainless Steel Fender Guards
Stainless Steel Headlight Visors
Stainless Steel Emblem Trim
Stainless Steel Mud Flap Accessories
Top Plates
Center Anti Sail Flap Weights
Anti Sail Flap Weights
L.E.D. Lights
Oval
Rectangle
Round
Stainless Steel License Plate Accessories
Stainless Steel Hardware
Stainless Steel Door Handle Trim
Stainless Steel Tailgate Handle Trim
Motorcycle Parts & Accessories
Harley-Davidson Electric Starter Shift Lever
Harley-Davidson SS Windshields
Make
Any Make
Any Make
Chevrolet
Chrysler
Dodge
Ford
Freightliner
GMC
Harley-Davidson
International
Kenworth
Mack
Peterbilt
Sterling
Toyota
Volvo
Western Star
Year
Any Year
Any Year
2020
2019
2018
2017
2016
2015
2014
2013
2012
2011
2010
2009
2008
2007
2006
2005
2004
2003
2002
2001
2000
1999
1998
1997
1996
1995
1994
1993
1992
1991
1990
1989
1988
1987
1986
1985
1984
1983
1982
1981
1980
1979
1978
1977
1976
1975
1974
1973
1972
1971
1970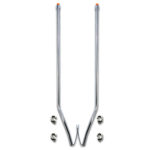 Enlarge
Sterling Bumper Guides (#848-510)
Product Details
Part#:
848-510
Bracket Style: Clamp OnSold As: Pair
The original patented bumper guides, made of polished 304 stainless steel with amber LED lights. Guides easily install with mounting brackets (included). Lights can be tied into turn signals or parking lights. Several LED light colors available!
Fits These Vehicles
Make
Model
Year(s)
Fender
Flares
Bumper
Notes
Vehicle
Image

Sterling

L-Line (SFA)

1999-2008

with

Steel - Angled End
Customers Who Bought This Item Also Bought...